Intelligent Document Processing (IDP): Obtain structured information easily and cost-effectively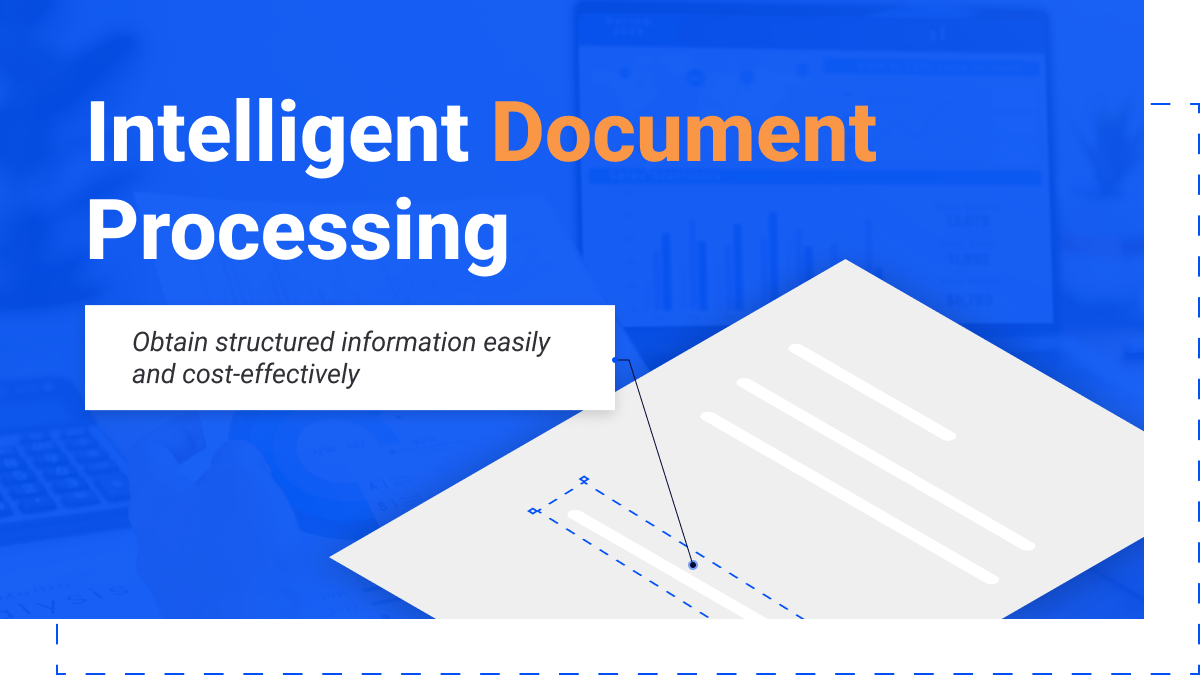 Subscribe for more content handpicked just for you.
Please check your email inbox and spam folder.
Intelligent Document Processing (IDP) is a revolutionary piece of the digital transformation.
Welcome to the automation era. Across industries, we're seeing companies working to streamline internal operations in the name of end-to-end efficiency. And at the forefront of this digital transformation is a piece of technology called Intelligent Document Processing.
IDP is, at its core, a process of automatically extracting and organizing information contained within documents. Any and all types of data — accurately retrieved, systematically arranged, and ready to serve your business needs.
This means of obtaining structured data is a must-have when it comes to digital transformation these days. Because, according to research from Knowledge Based Value (KBV), some 80 percent of business data is unstructured — toiling away in emails, images, PDFs, and other business documents. And that's where IDP comes in: Taking the half-baked mess of unstructured forms and finishing the recipe so that this data can actually be put to good use.
You may also be interested in: Tips and tricks to increase productivity using OCR technology
Another way to view IDP, according to KBV, is that it's "the key to unlock[ing] the value of RPA." RPA, or Robotic Process Automation, is essentially a branch of AI that replicates human tasks. It doesn't form its own strategies, like more advanced AI, but instead automates more menial processes that empower humans to do the strategy forming. Think: Data recognition, extraction, classification, transfer, and so on.
IDP harnesses these key RPA functions and bolsters their potency with the help of more robust AI like Natural Language Processing (NLP) and Machine Learning (ML). The former chiefly concerns itself with data interpretation while the latter uses those interpretations to create larger-scale models. Together, they enable IDP to provide solutions in a way that's non-invasive, easy to integrate, highly scalable, and widely applicable across all industries and business functions.
And once integrated to accurately suit those functions, that's when the true benefits of IDP really come to light. For instance, consider:
Reduced cost.
And we mean dramatically reduced cost. Imagine streamlining hours upon hours of manual labor — instead investing that time and effort towards higher-value tasks and initiatives.
Customer satisfaction. When it comes to support, customers will always value speed of response and accuracy of solution; this is true of any audience in any industry. IDP enables optimization on both accounts.
Data accessibility. When information is organized into systematic, cloud-based structures, that information becomes readily and easily available across teams. With greater structure comes greater accessibility.
Naturally, though, this is just the tip of a fairly deep iceberg. And that depth really shows up when we start talking about customized solutions. There's what IDP can do for everyone… and then there's what IDP can do for you.
If that's got you thinking, let's chat! We'd be happy to provide information on how you can implement IDP in practice.
Need more information? Contact us!